Should I Get a Tankless Water Heater? Part II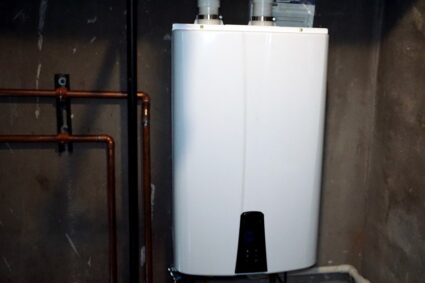 Last month we compared traditional water heater tanks with tankless water heaters. We considered how the systems for producing hot water differ and why tankless heaters are becoming an increasingly attractive alternative.
We'll next delve into costs you might expect for a tankless water heater, as well as the system of choice we install for our customers in Aurora, Oswego, Plainfield, Naperville and Lisle (IL).
Tankless Water Heater Installation Cost
Installation of a tankless water heater will on average cost more than installing a traditional tank. One should view installing a tankless water heater as an initial investment in greater long-term benefits, as a tankless water heater will often outperform a traditional tank over the lifetime of ownership.
The cost of tankless water heater installation includes factors such as:
any needed plumbing retrofit

possible upgrade to gas lines for increased energy load

installation of outside vents for intake and exhaust

installation time (4 to 8 hours depending on the system)
The total cost of a tankless water heater including labor and equipment for a home in Aurora, Oswego, Plainfield, Naperville or Lisle will typically be $3,500 to $4,400.
Are Tankless Water Heaters Worth It?
Tankless water heaters' function and design usually make them more energy-efficient than tank heaters. Keeping water hot is a home's second greatest energy cost after HVAC, so that efficiency will really come into play as U.S. energy prices continue to rise.
According to the U.S. Department of Energy, a tankless water heater that uses less than 41 gallons of hot water per day can range from 24% to 34% more efficient than a tank heater. Tankless units that use much more hot water (e.g. 85 gallons/day) will often range from 8% to 14% more efficient than a tank because the system is running more regularly.
If you install tankless water heaters at every outlet (sinks and showers) instead of having one central tankless heater for the whole house, your efficiency can increase even more to between 27% and 50%.
Compared with traditional tanks, tankless water heaters can reduce energy costs by up to $225 per year. You can potentially save even more with any available manufacturer rebates and federal tax incentives (ask your accountant).
Should you need to replace your tankless unit years later, the labor costs tend to be less than if you had to replace a traditional tank.
Because they are small and compact, tankless water heaters also require much less space than traditional tanks and have less risk to flood, leak and cause water damage.
Should I Install a Tankless Water Heater?
Installing a tankless water heater at your home in Aurora, Oswego, Plainfield, Naperville or Lisle is an attractive idea if you:
are purchasing a home

know you will stay in your current home for at least the next 10 years

often run out of hot water because of successive showers by home occupants

would like to gain the extra space taken by a standard tank heater
As long as you maintain your tankless water heater properly, you should be able to enjoy an endless supply of hot water for many years to come. Well-maintained tankless water heaters can have a normal life expectancy of more than 20 years (as opposed to 10 to 15 years for tank heaters). Tankless systems' warranties are typically longer as well.
Best Tankless Water Heater: Beery's Choice
Many different brands of tankless water heaters are available for homeowners in Aurora, Oswego, Plainfield, Naperville and Lisle. Beery installs gas-heated Navien tankless units because in our experience they provide the greatest quality and performance.
With the technology and craftsmanship we desire for our customers, Navien NPE-2 premium efficiency condensing tankless water heaters offer features such as:
ENERGY STAR certification up to 0.96 Uniform Energy Factor (UEF) efficiency

built-in system that can reheat water in supply lines with a recirculation loop

durable condensing dual stainless steel heat exchangers and burner that recover extra heat otherwise lost in non-condensing water heaters

lower CO2 emissions and exhaust temperatures that allow less-expensive PVC venting

compact, stylish, wall-hung design up to 80% smaller than traditional tanks

optional WiFi remote-control system

environmentally friendly scale-prevention system

15-year warranty for dual stainless steel heat exchangers
That's a lot of ownership assets. When you add the possible rebates and tax credits, the value and advantages only increase.
Here for Answers and Service
Beery Heating and Cooling is your community resource for proper installation and maintenance of exceptional tankless water heaters in Naperville, Aurora, Plainfield, Oswego and Lisle (IL). If you would like to further discuss how installing a tankless water heater can benefit you and your household, simply give us a call at (630) 585-6444.
We are also available for tankless water heater installation in Yorkville, Plano, Montgomery, North Aurora, Sugar Grove and Batavia (IL)