Commercial HVAC Rooftop Units: Keeping Yours Running with the Right Care and Repair
Business owners and managers that have a gas or electric rooftop HVAC system in Naperville, Aurora, Oswego, Plainfield or Lisle are familiar with the advantages.
Commercial HVAC frequently requires many square feet a business might need for operations or areas such as parking and landscaping. A commercial rooftop unit frees that space. Because it is modular, it also can be expanded, redesigned and redistributed with more flexibility. It can be less expensive to install than a system within the building as well.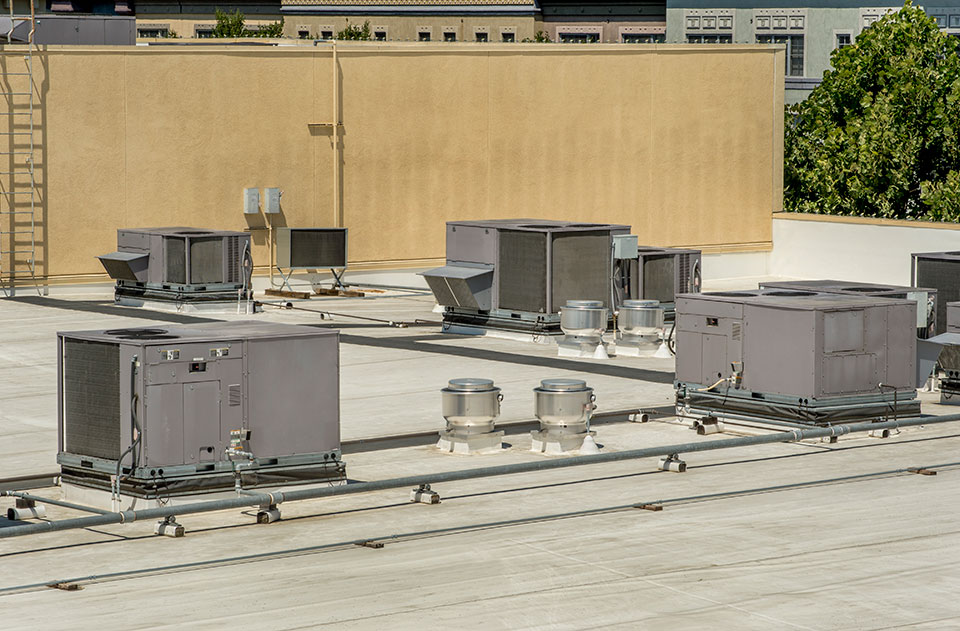 Of similar importance, a rooftop unit often allows easier access for professional maintenance. A regularly scheduled inspection and tune-up is important because losing heat in winter or cooling in summer can make a business uncomfortable for both customers and personnel.
A thorough HVAC rooftop-unit inspection will address vital system factors such as:
belt tension for correct airflow
clean air filter
heat exchanger
operation of blower assembly
safety controls and wiring
combustion, burner assembly and ignition
condensate line and drain pan
compressor
coil
refrigerant level
Basic maintenance can go a long way in achieving better air quality as well as controlling HVAC expenses.
Rooftop Furnace and AC Repair
An HVAC rooftop unit is made to serve a business with reliable heating and cooling for many years. At the same time, standard wear from age and exposure to elements such as sun, snow, wind and rain can all begin to affect the system's function.
Just a few problems with a commercial rooftop unit might include:
faulty control board
refrigerant leak
gas leak
frozen coils
dirty coils
clogged drain line
failing venting motor
worn or loose fan belts
worn contactors
blocked or leaky ducts
If maintenance reveals an issue with your rooftop unit, or if you're aware of a glitch, prompt commercial HVAC system repair should be a priority. Industries that depend on temperature control, such as food and health professions, may need to shut down if they lose proper ventilation. Other types of businesses can likewise run into challenges until the problem is fixed, whether it's warehouse space or an office environment.
Because a business relies so much on its HVAC, rooftop-system repair should be performed by certified specialists who are experienced with commercial systems, including how to work on them in compliance with the manufacturer's specifications. The technicians also should be current with local codes for rooftop units. Inquire about these qualifying points when contacting a resource for repair.  
Your resource further should have the diagnostic equipment and replacement parts for a timely, accurate resolution of the rooftop-unit repair that you need.
Here for Answers and Service
At Beery Heating and Cooling, we're always ready to support customers who need repair or maintenance for their commercial rooftop unit in Naperville, Aurora, Plainfield, Oswego or Lisle. If you have a question or concern about your particular system, please feel free to call us at (630) 585-6444.
We are available for commercial HVAC rooftop unit repair throughout the area, also including Montgomery, Plano, Yorkville, North Aurora, Sugar Grove and Batavia. 
Ask us about how our commercial customers can benefit from no overtime charges as well as a discount on HVAC labor and repairs!