What to Do If the Heat Goes Out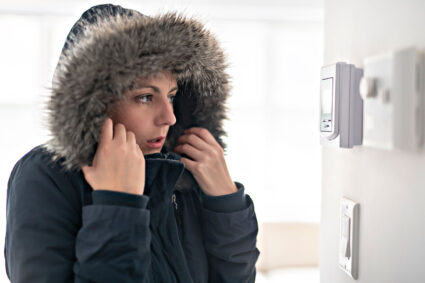 Anyone who has stepped outside lately here near Aurora, Oswego, Plainfield, Naperville and Lisle (IL) has surely felt winter's bite. Even a couple of minutes in the frigid air can seem too long, especially if there's a wind chill. At least we have the comfort of knowing we have a home to stay warm and comfortable in.
But what do you do if the heat goes out on you all of a sudden? Perhaps you're in the middle of something, or sleeping. You begin to notice a drop in degrees. On closer inspection, you realize the furnace is blowing either cool air or no air at all. Being alarmed would be a normal response. Having no heat in our sometimes-glacial temperatures isn't just uncomfortable – it can also be unsafe.
If the heat ever does go out on you, you can do some things on your own to possibly correct the situation. Let's cover those things first, and then we'll discuss what to do if you still find yourself without any heat.
Heat Goes Out: What to Do to Start
Should the heat go out, begin with the following steps and see if any of them resolve the issue.
Ensure the thermostat is set to "heat" and the fan is set to "on" or "auto."

Make sure all of your vents and heat registers are open and not obstructed (e.g. by a box, backpack, stack of laundry).

Check the furnace's air filter. If it is dirty or clogged, replace it (it's always good to have a replacement filter on hand, especially in winter).

Increase your thermostat setting by five degrees and see if the heat turns on within a reasonable time after.

Inspect your electrical panel to find out if a fuse blew or a circuit breaker tripped. If this is the issue, replace the fuse or reset the breaker.

Check the pilot light if your furnace uses one (make sure the gas valve is open as well). If the pilot isn't lit, you can try to re-light it if you know how to do so properly. If that doesn't work, or if you're unsure of how to re-light the pilot, contact us at Beery.

If you have a newer model with electronic ignition, try resetting the unit. First either turn the thermostat down or turn the system off at the main power switch. Then return to the furnace and reset the ignition control. You should hear the ignition spark or see the surface igniter start to glow again. If you don't, contact a Beery heating professional.
Heat Goes Out: What to Do If It Still Doesn't Work
If your furnace still doesn't work after the initial steps to correct it, notify us and consider the following to stay safe and warm until we arrive for a solution at your home in Plainfield, Aurora, Oswego, Naperville or Lisle.
Turn the gas off. If you have a gas furnace, shut off the gas valve to prevent carbon monoxide leaks.

Close rooms not in use. If any rooms are unoccupied or not intended for use, close the doors to them. This will help heat stay concentrated in the areas where it is needed.

Ensure windows are fully closed and close the drapes. This will help prevent remaining warm air from escaping. You can also stop drafts beneath doors by placing a rolled towel along the bottom crack.

If you have one, light up the fireplace. This will offer extra heat and comfort while you wait for a Beery heating professional.

Bake something. If the heat goes out, it's a good time to turn on the stove. You'll generate interior heat at the same time you create something tasty to eat.

Turn on a space heater. You can keep spaces warmer with an electric space heater if you have one. If you have a portable propane heater, make extra-sure it is safe to use indoors. Many propane heaters are mainly for outdoor use, and if they are not suitable for indoor operation, they can pose a carbon monoxide risk.
Here for Answers and Service
At Beery Heating and Cooling, we are more than heating specialists serving Naperville, Aurora, Plainfield, Oswego and Lisle: We are also community friends who care about your warmth and safety in winter. If your heat goes out or you simply want to know more about what to do to stay warm at home, just give us a call at (630) 585-6444.
We are also available for support when the heat goes out in Yorkville, Plano, Montgomery, Batavia, North Aurora and Sugar Grove.