Gas Furnace Replacement and Installation
Anyone who lives or works in Naperville, Aurora, Oswego, Plainfield and Lisle (IL) knows how important a functioning furnace is in winter. If you maintain your heating system and have it properly repaired when needed, you can receive many years of service from it.
At the same time, like anything else mechanical, your furnace can begin to wear down and eventually require replacement after extensive use. You'll usually know it's time for new installation when utility bills start climbing and system repairs become more frequent and expensive. At that point, you'll want to know what's required and what the cost will be.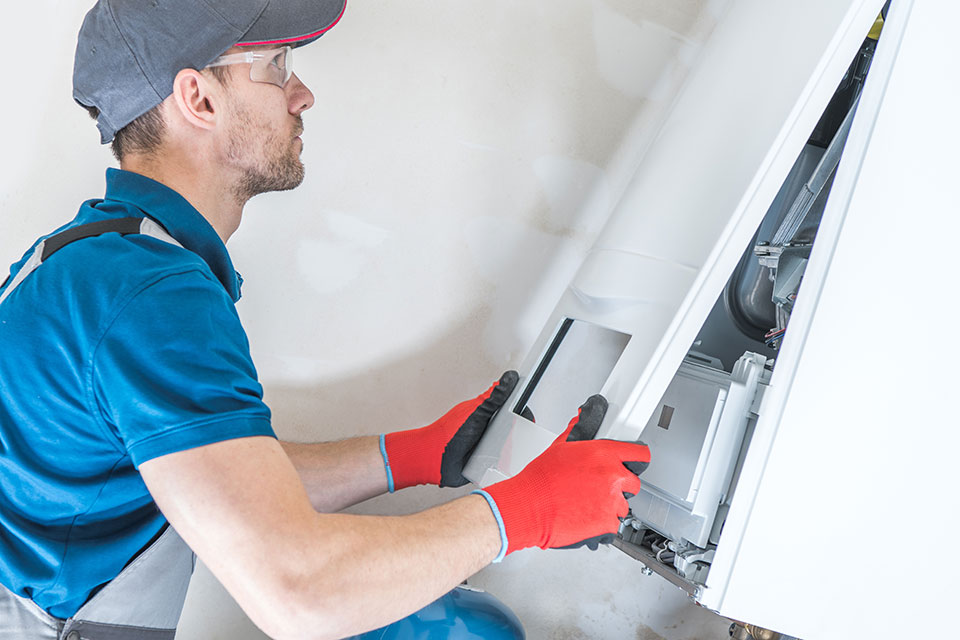 Most heating systems in Naperville, Aurora, Oswego, Plainfield and Lisle are fueled by methanol gas by way of a municipal gas line. In this discussion, we'll briefly talk about gas furnaces and factors that determine their replacement cost.
Gas Furnaces: Quick Overview
Gas heating systems are typically overall less expensive to operate and more environmentally friendly than other furnace types such as oil and propane.
When your interior room temperatures drop below the thermostat setting, the heating system ignites the furnace's burner being fed by your local gas line. The gas combusts, and the hot air then rises through the heat exchanger to warm your spaces.
The warmed air is circulated by an electric fan known as the blower assembly. This mechanism draws fresh air into the heating system and distributes it to specific areas through your air ducts and vents.
The warmed air re-enters the heating system through a return vent, a large, flat vent usually located in the floor, wall or ceiling somewhere near the furnace.
Your heating system will run until the interior temperature reaches the thermostat setting. It will then shut down. It will re-activate if the temperature falls below its setting again.
Gas Furnace Installation and Replacement: Cost Factors
When you are working with a heating professional to install a replacement furnace in Naperville, Aurora, Oswego, Plainfield or Lisle, the following are factors that influence the cost.
Labor. The labor for installing a replacement furnace is often billed by the hour. The ease or complexity of the installation will dictate the number of hours required. The hourly rate for labor can also differ by company. 
Furnace brand and model. Furnaces are priced according to their quality, size and capabilities. Some models are made to heat bigger spaces with greater square footage, and some are designed and marketed for smaller areas. A brand model with upgraded features and a higher efficiency rating can be more expensive as well.
Energy efficiency. Today's furnaces are rated according to their AFUE (annual fuel utilization efficiency). Most homes need a furnace with an AFUE rating of at least 80%, and the rating can reach up to 97%. A higher rating typically correlates with a more-expensive furnace up front, but the greater efficiency saves more in the long run through enhanced system performance and lower energy bills.
Furnace location. The site of the furnace is a cost consideration. Installing a furnace in a hard-to-reach area will often require more labor. 
Former furnace type. If an electric furnace is being replaced by a gas unit, for example, gas lines may need to be installed. The new installation might also require extra ductwork.
Furnace size. It's important that your new furnace be the right size for heating your spaces depending on how large or small they are. Heating output is measured by British Thermal Units (BTUs). In our region, you want a furnace that can produce 45 to 50 BTUs per square foot. If your home is 2,000 sq. ft., for example, the replacement furnace should have at least 90,000 BTUs of heating output.
A furnace replacement can also include fees for disposing of the old unit and for a permit if your jurisdiction requires one.
With these factors considered, you can anticipate spending between $3,000 and $5,000 on average for a complete furnace replacement installation in Naperville, Aurora, Plainfield Oswego or Lisle.
Here for Answers and Service
If you would like to further discuss replacement and installation of a gas furnace, the specialists at Beery Heating and Cooling are always glad to assist you. We can answer your questions as well as get you started with an estimate. Just give us a call at (630) 585-6444!
We are available for residential and commercial furnace replacement and installation throughout the area, also including Batavia, Sugar Grove, Yorkville, Plano, North Aurora and Montgomery.