I Think I Need Furnace Repair Near Me: What Can I Do?
The cold sets in here around Naperville, Aurora, Oswego, Plainfield and Lisle. A flurry of snow and icy wind sweep down and whistle around your house. You set the thermostat for a more-comfortable temperature and then wait for the air to adjust.
But it doesn't. No matter how much you increase the setting, your rooms just won't warm to the right level.
Before you go online and type "furnace repair near me Naperville IL" (or Oswego, Aurora, Lisle, etc.), you can try a few things to resolve the issue before you make the call.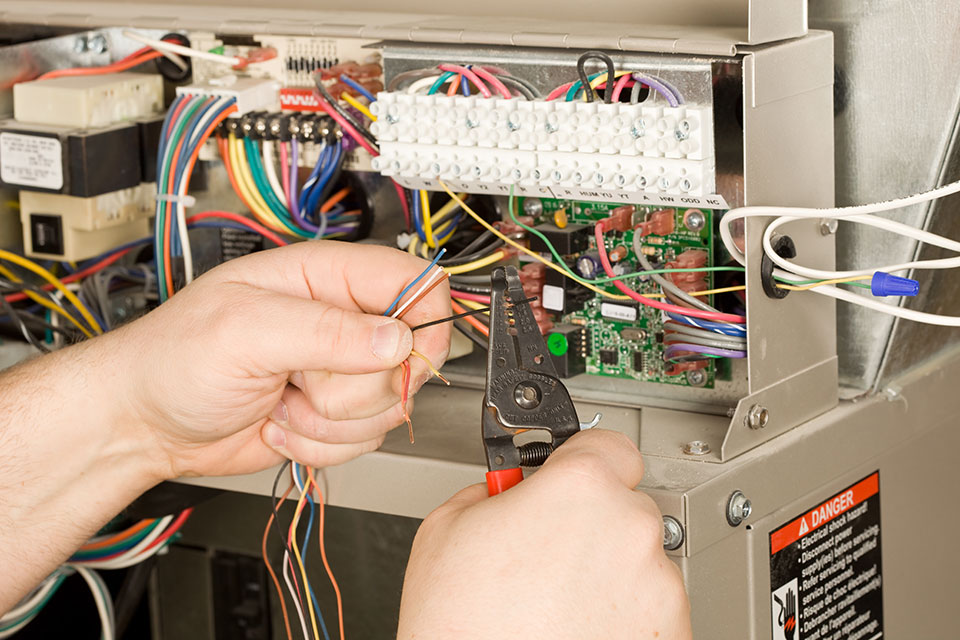 Check the batteries and the setting switch. If your thermostat runs on batteries, make sure the symbol for them isn't flashing to indicate they're low. If it is flashing, replace them. Also ensure the setting switch is on Heat, another detail that can be easy to miss. Wait a minute or so to see if the heat turns on.
Check the air filter. Similar to the thermostat's setting and batteries, another thing we can often overlook is a dirty furnace filter. A clogged filter limits the furnace's airflow into the house and affects the output of heat. If the filter is dirty, replace it promptly—it might solve the problem.
Confirm the furnace has power. The furnace must have electricity to run. Turn the setting switch to On or Auto. If the fan activates, you'll know the unit is getting power. If it doesn't turn on, check the circuit in your home's breaker panel to ensure it wasn't tripped.
Furnaces also have their own switch referred to as the furnace switch. It looks like a regular light switch, and it is usually on the unit itself or the wall somewhere near it. If the switch is off, turn it back on and wait a few minutes to see if the system reactivates.
Check the pilot light. If your furnace has a pilot light—many older models do—and it is out, consult your owner's manual about how to relight it. Follow the instructions and take proper precaution in working with fire. If you're not comfortable with reigniting it yourself, your HVAC technician can help you.
Two Other Steps
Should you try what we've discussed and still you don't have heat, you can try a couple more things before looking for furnace repair near you in Naperville, Aurora, Oswego, Plainfield or Lisle.
Check the gas valve. Verify the gas to the furnace isn't shut off. All gas furnaces will have a gas valve within six feet of the unit.
If the valve is on but the furnace isn't firing up, turn on another gas appliance, such as a stove. If it works, you know the house is receiving gas and the issue is likely the furnace.
Look at the furnace code. Some furnaces built after 1990 include a tiny window with a light showing through. It flashes a code that can help determine what the issue might be.
If you've turned the furnace switch off and then on, note the flashing light's sequence. Next, open the unit's access panels (typically two). One of them will have a reference key for the code. This is useful information for your HVAC technician if the furnace still doesn't start after you put the panels back on.
Do I Need Furnace Repair Near Me? Here for Answers and Service.
Hopefully this troubleshooting at home has you on your way to proper heat. If it doesn't, the professionals at Beery Heating and Cooling can help you get back to comfort.
Our technicians solve heating problems and craft indoor-air environments for homeowners in Naperville, Aurora, Plainfield Oswego and Lisle. Before you go online and type "furnace repair near me," give us call us at (630) 585-6444. We welcome the opportunity to listen to you and learn how we can assist you.
We are also available for furnace repair near Plano, Yorkville, Batavia, Sugar Grove, North Aurora and Montgomery.