Low-Cost Furnace Clean & Check: Is It Really a Value?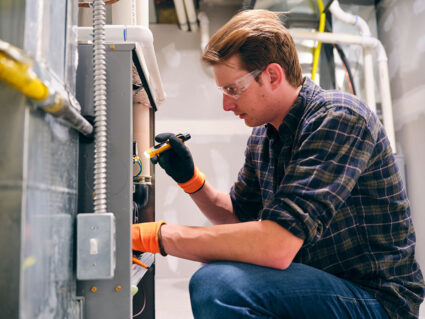 It's starting to get cooler here near Aurora, Oswego, Plainfield, Naperville and Lisle. This is when the temperatures start nudging us to make us think how our heating system will work for us during the next few months (we all know how it can get between January and March).
HVAC service providers are thinking the same thing in the fall, which means you'll probably see your share of marketing offers. They might be e-mails, direct-mail cards, inserts in savings packets, or ads in newsletters or magazines. Some of them might be looking to interest you in a furnace check and cleaning for a special price (e.g. $79).
On the surface it might sound like a good idea (and a good deal), but before you leap at the chance to be both proactive and frugal, let's talk a little bit more about whether those low-cost offers are truly a value.
Is Annual Maintenance Really Necessary?
The quick answer is yes – if you want to ensure proper performance from your heating system and prevent problems that could really make things difficult (and expensive) later.
Furnace manufacturers also recommend regular maintenance by a qualified HVAC technician. That advice actually serves your best interests because most warranties require proper system upkeep to remain in effect. If a manufacturer determines that improper maintenance caused a need for repair, the repair will not be covered.
Annual maintenance performed properly by a trained and certified technician will consist of:
Furnace cleaning. All parts of the furnace, including the fan blades, blower, drain line and outdoor unit, collect dirt and dust during the year. If they're not well cleaned before the heating season, the furnace can work harder than it should and run into problems.

Inspection. This is a top-to-bottom exam of the unit including all system parts such as the air filter, vent system, air-intake grilles, the heat exchanger, the burner and flame sensor, the belts, the thermostat, and electrical wires and connections. Anything that is old, damaged, corroded or otherwise compromised will be discussed and corrected.

Lubrication. All moving parts need to be properly lubricated to ensure they continue running smoothly and without extra effort during the heating season.

System testing. In addition to verifying the furnace runs correctly and communicates with the thermostat, the technician will check for proper airflow as well as for any leaks or fumes in the system.
The benefits of annual maintenance far outweigh the one-time modest cost:
Money saved. Cleaning and maintaining the furnace contributes to a system that does not wear down and draw extra energy as it operates, which keeps your repair and utility bills well under control.

System longevity. A maintained furnace can fulfill or even surpass its expected life of operation.

Greater safety and peace of mind. When fall makes way for winter in Aurora, Oswego, Plainfield, Naperville and Lisle, the cold can be a gripping fist on our homes. A fully functioning furnace protects us from the ice, snow and wind coming to claim our heat. That keeps us safe as well as cozy through the thick of it.

Active warranty. As we mentioned above, a furnace that is maintained is one that keeps its warranty in effect. If for any reason your unit does need a repair during the warranty period, your maintenance record will show your responsible efforts and likely prevent you from having to cover the cost of repair. Annual maintenance can also help spot a needed repair that will be covered by your warranty.
OK – So What Is There to Worry About?
We reviewed the information in the previous section for a reason. Note that we kept using the word "maintenance." Proper maintenance by a qualified technician is different from many of the "clean and check" offers you might see for a low cost.
A professional HVAC company in truth cannot send a technician to a service visit for 1.0 or 1.5 hours for just $79 – behind the scenes it constitutes a financial loss. A "clean and check" offer for a low price can sometimes be what's known as a "false leader," or an inroad to potentially charging more. Different customers have told us of their experiences with this type of encounter.
A clean and check often isn't enough because it can focus only on the furnace itself and not include the entire heating system. At the low price charged, a clean and check can commonly involve just a vacuuming of dust and other debris from the furnace, a basic visual inspection, a change of the air filter and a test for system operation.
The vital steps for proper maintenance in the previous section often won't be covered. If they are, they may either command an extra fee or lead to an up-sell for a recommended part. Keep in mind that some HVAC representatives are working on commission.
A proper furnace inspection by a qualified technician without a financial loss to the business will usually cost between $100 and $150. Even at that price, the business isn't making a profit – they're aiming to break even. The goal of a correctly priced maintenance visit is to form new customer relationships and establish professional credibility.
Here for Answers and Service
Beery Heating and Cooling is a local HVAC resource for homeowners in Naperville, Aurora, Plainfield, Oswego and Lisle. We are trained and certified heating technicians who perform proper maintenance for an accurate and transparent fee that ensures you receive all you need to keep you furnace running through the winter. If you would like to discuss furnace maintenance or schedule a service visit, simply give us a call at (630) 585-6444.
We are available for maintenance that goes beyond a basic, incomplete clean and check throughout the area, including North Aurora, Batavia, Yorkville, Plano, Montgomery and Sugar Grove.