Zoned Comfort Solutions with Ductless Mini-Split Systems
Take Total Charge of Air Temperatures at Home: Zoned Comfort Solutions with Ductless Mini-Split Systems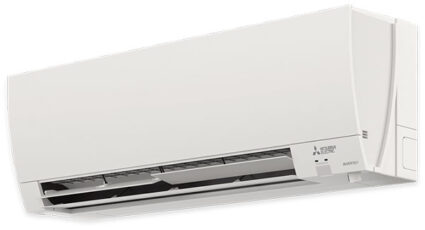 Those of us in Aurora, Oswego, Plainfield, Naperville and Lisle (IL) can appreciate the importance of a properly functioning HVAC system. We need to keep warm when it's cold and cool when it's hot. Without those abilities, our days would sure get lot tougher and longer as we move through the seasons.
For many homes, conventional systems have typically operated as all on or all off. In other words, when you run the system, it permeates the whole house in trying to condition it.
That aims for the prize of sufficient heating or cooling, but as we know, homes have different layouts and traits. Individual rooms also can have their own characteristics. On top of that, you might use some rooms all the time and others hardly at all.
Now imagine that you have central heating and cooling that lets you customize settings in different zones throughout your house as opposed to having one unit that tries to push air uniformly into every square foot. The system also adapts to room preferences and characteristics while requiring less power to run.
If that creates a desirable image, you don't have to keep imagining it. Current technology makes it possible to have that system to maintain your comfort as you like it all year long.
Zoned Comfort Solutions with Mini-Split Systems
The answer to better control and distribution of cooled or heated air at home is Zoned Comfort Solutions by Mitsubishi Electric and American Standard. Simple to install, the all-electric, zero-emission mini-split system can serve as an addition to your existing HVAC or a replacement of it using its current electrical connections. It also lets you create up to eight separate comfort zones based on your home's layout and use.
For example, you can keep the family room, the bedrooms and a loft area at their own distinct temperatures according to their function and occupancy during the day. For a bedroom, you might have separate settings for daytime and nighttime, and the system will maintain the room as requested. This is a notable shift from trying to control forced air by closing doors and vents, which creates temperature and air imbalances.
If you have a room that's only sporadically used, such as a spare bedroom or a room for storage, you can save both money and energy by turning off conditioning for its zone.
Multi-story homes in Aurora, Oswego, Plainfield, Naperville and Lisle can especially benefit from mini-split zone systems. With a traditional system, because warm air rises and cold air falls, if the thermostat is upstairs and the heat turns on, the set temperature is achieved upstairs before it is downstairs. The upstairs thermostat also doesn't know what the downstairs temperature is, so when the set temperature is reached upstairs, the heat shuts off, leaving the downstairs rooms insufficiently heated.
A mini-split zone system's versatility can benefit single-story ranch homes in Aurora, Oswego, Plainfield, Naperville and Lisle as well. If a part of the house is seldom used, you can zone it to not waste energy and utility dollars on cooling or heating the space.
Ductless Mini-Split Heating and Cooling
Zoned Comfort Solutions let you choose to have a ductless mini-split system or one that includes ductwork or partial ductwork.
Because long duct runs can be vulnerable to heat gain and air leaks, limiting or eliminating ducts can further improve energy efficiency. If your zoned system is for conditioning the entire home, ducted units will often condition larger zones and ductless air conditioners and heaters will condition smaller zones. You can opt for compact designs that centralize the ductwork and keep ducts within insulated, conditioned spaces.
Ductless mini-split systems are particularly appealing for older homes that don't have the space for a central conditioning system. Ductless heating and cooling units also save valuable space when installing HVAC for new construction.
Other popular areas for ductless mini-split systems throughout a home in Aurora, Oswego, Plainfield, Naperville and Lisle include:
room above a garage
finished basement
three-season room
home office
sun room
room additions
Ductless Heating and Cooling: Abundant Advantages
The assets of a ductless mini-split system go well beyond customizing temperature zones for optimal comfort:
Lower energy draw. The compressor technology and zone-by-zone control provide greater precision of variable speeds for maintaining desired temperatures, which can lead to up to 40% more efficient operation compared with conventional HVAC. A zoned ductless mini-split system also doesn't require fossil fuels to operate.

Better air quality. Filtering air by zones removes impurities such as dust, mites and pollen while killing odors and bacteria.

Barely a noise. Indoor units run quieter than a whisper while outdoor units make less sound than a typical conversation. As a comparison, the Mitsubishi outdoor unit runs at 50 dB of sound while a conventional central air conditioner operates at 72 to 74 dB.

Smart controls. The smart kumo cloud® app with voice activation lets you control the system anywhere you have access to a cell or wi-fi connection.
With low start-up and running amp draws, Zoned Comfort Solutions also are easily powered by solar/battery and generator backups in the event of an outage.
You have diverse choices of system design as well:
wall-mounted indoor unit
floor-mounted indoor unit
ceiling-recessed indoor unit
horizontal-ducted indoor unit
multi-position air handler
outdoor unit
When you have a zoned ductless mini-split system professionally installed by Beery Heating and Cooling, you further receive a 12-year warranty on parts and the compressor and a two-year warranty on labor.
Beery is also a Mitsubishi Diamond Elite Contractor, meaning we have reached the highest level of recognition from the Mitsubishi Electric HVAC division. This distinction identifies Beery as knowledge leaders in industry equipment and technology as well as installation best practices.
Limited-Time Rebate Offer
If you install a ductless mini-split system between now and June 30, 2023, you'll qualify for an instant $500 rebate. Call Beery for more details!
Here for Answers and Service
Those who follow our blog know that the professionals at Beery Heating and Cooling truly care about comfort and indoor-air quality for homeowners in Naperville, Aurora, Plainfield, Oswego and Lisle (IL). Ductless mini-split systems are a great way to customize exactly how you like your air at home to be. Give us a call at (630) 585-6444!
We are also available for service and installation of Zoned Comfort Solutions with ductless heating and cooling for North Aurora, Batavia, Yorkville, Plano, Montgomery and Sugar Grove (IL)