What Is the Life Expectancy of a Commercial HVAC Unit?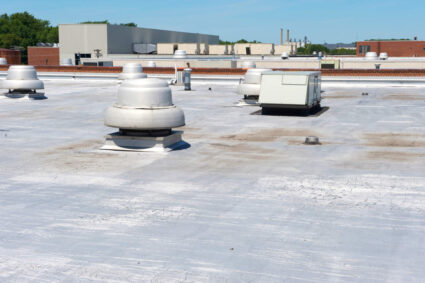 As a business owner or manager in Aurora, Oswego, Plainfield, Naperville or Lisle (IL), you have operational expenses that you budget and monitor, including variable overhead costs. Some might be consistent, some might appear unexpectedly and some might be an infrequent line item.
Your commercial HVAC system could be one of the less frequent costs. Typically, while you might need to invest in system repairs and maintenance, many years can often pass before you need to concern yourself with replacing the unit.
When that time does arrive, however, HVAC system replacement is a notable expense. Understanding the life expectancy of a commercial HVAC unit can help you be prepared for that larger cost.
Commercial HVAC Unit: Life Expectancy Years
Different commercial facilities may use different kinds of HVAC systems. The life expectancy of yours will often depend on what type of unit it is.
Typically, you might anticipate the following life spans according to HVAC type:
| Type | Years |
| --- | --- |
| Air-cooled and evaporative condenser | 20 |
| Air-to-air heat pump | 15 |
| Cast-iron boiler | 35 (hot), 30 (steam) |
| Cooling tower | 20 (wood, galvanized metal), 35 (ceramic) |
| Electric boiler | 15 (hot water and steam) |
| Gas and oil furnace | 18 |
| Packaged chiller | 20 (reciprocating), 23 (centrifugal and absorption) |
| Radiant heater | 10 (electric), 25 (hot water and steam) |
| Single and multi-zone rooftop AC | 15 |
| Steel fire-tube boiler | 25 (hot water and steam) |
| Steel water-tube boiler | 24 (hot water), 30 (steam) |
| Through-the-wall AC | 15 |
| Water-to-air heat pump | 20 |
These estimates can help to give an idea of how long a certain system might run before it needs replacement. A commercial HVAC unit's lifespan also will depend on a few different factors that can shorten or lengthen its years of performance.
Commercial HVAC Unit: Life Expectancy Factors
A commercial HVAC unit is usually more complex and high-performing than a system for residential use. One leading factor that can determine a unit's life span is its size. Is the unit the right size for your building? A system that is either undersized or oversized will often work harder and endure more wear and tear.
Some other determinants of an HVAC unit's life expectancy can include:
Quality of system installation
Efficiency of system design
Climate zone of operation
Quality of main components
Amount of annual usage
Regularity of maintenance
Let's look at a few of these factors a little more closely.
Quality of system installation. Whether the system is installed correctly will impact the unit's life span from the start. Correct installation means a properly sized unit is installed according to the manufacturer's specifications and your building's HVAC system design. Incorrect installation can cause years of stress on system components, leading to damage and a premature system failure.
Amount of annual usage. Consider how much you use your HVAC system during the course of a year. Aurora, Oswego, Plainfield, Naperville and Lisle have hot summers and cold winters, so there's a good chance it is chugging often in those seasons. On the other hand, if your HVAC runs on an automated system that minimizes energy waste, the equipment likely doesn't undergo as much wear as that which is going 24/7. The longer and harder the system runs, the faster it will age.
Regularity of maintenance. This factor may perhaps have the greatest influence over your HVAC unit's life expectancy. Each component in a commercial unit affects other components. If you are proactive and conscientious about scheduling regular preventive maintenance including professional inspections and tune-ups, your HVAC system stands a much greater chance of meeting or even exceeding its anticipated life span. A well-maintained system will also perform at its peak potential more regularly.
Proper maintenance includes checking and replacing air duct filters periodically as well. Forgetting or overlooking even this simple step can contribute to a shorter life of a commercial HVAC unit.
Here for Answers and Service
Maintenance, repair and replacement of a commercial HVAC unit require particular skill and experience. Beery Heating and Cooling specializes in commercial HVAC service for Naperville, Aurora, Plainfield Oswego and Lisle businesses. If you have any questions about your system, including about its life expectancy, we'd be glad to hear from you and answer them. Just give us a call at (630) 585-6444!
We are available for commercial HVAC service throughout the area, including Montgomery, Sugar Grove, North Aurora, Batavia, Yorkville and Plano.