2021 Central Air Conditioner Installation Cost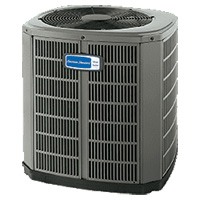 Here in the area including Aurora, Oswego, Plainfield, Naperville and Lisle, we all depend on air conditioning during the summer. When the heat and humidity are high, even one night without our AC can be tough.
If we ever find ourselves in a situation where our AC system must be replaced, our first concern will be taking care of it right away, especially if we're in the middle of summer. Our next thought will be how much installation of a new central air conditioner will cost.
Finance is a main factor in keeping comfortable, cool and safe in the summer heat, so let's look further at central air conditioner installation in 2021.
2021 Central Air Conditioner Installation: Cost and Variables
Installation of a central air conditioner in 2021 will typically range from $3,000 to $8,000 depending on multiple variables. The average is about $5,200 for an installation.
The main factors of installation cost include air conditioner brand, model and size; the unit's energy efficiency; the installation labor; and expenses for any additional requirements such as ductwork or extra electrical work.
2021 Central Air Conditioner Installation: Brand, Model & Size
Today's air conditioners may include different features from different manufacturers. Be sure to inquire about what is available from your AC professional because having different options can often help lead to the right result. The cost will partially depend on which model and which options you choose.
The size of your house will play a role too. A 1,500sf home would not require the same size and power of air conditioner as a 2,500sf home would (assuming the system has proper ductwork).
Unit size matters because if the air conditioner is too large for your space, it will cycle on and off regularly which will waste energy while also becoming disruptive. If your air conditioner is too small, it will run constantly to cool your home and use a lot of energy.
AC cooling capacity is typically measured by tonnage. To arrive at the most accurate unit size for your home in Naperville, Aurora, Plainfield Oswego or Lisle, your AC professional will perform what is known as a load calculation. That assessment will include details such as the home's square footage, shape and layout, as well as its windows, walls, floors and insulation. The professional will check your ducts as well.
2021 Central Air Conditioner Installation: Energy Efficiency
Current air conditioners are more efficient than older models in their ability to cool air while using less energy. A unit's energy efficiency is identified by its SEER rating. The minimum SEER rating required for a new air conditioner today is 13, and the rating can go as high as 24.
If you have an air conditioner that was installed before 2006, installing a new unit with a SEER rating of 13 can increase your cooling efficiency by as much as 30%.
As you might interpret, the cost of an air conditioner rises with its SEER rating. A 16 SEER unit will cost more than a 13 SEER model; at the same time, it can help save on energy bills over time.
2021 Central Air Conditioner Installation: Installation Labor & Extra Work
Installation of a new central air system will include a labor cost that can vary among AC professionals, just as the equipment you choose varies. You can make yourself aware of these fees as you research AC professionals in your area.
Any extra work needed for your installation would be determined by the load calculation mentioned above. For example, the system assessment might reveal that new or repaired wiring or ductwork would be needed. You might also choose a hardware upgrade such as a smart thermostat.
Here for Answers and Service
As you can see, installation of a central air conditioner in 2021 can involve several aspects. Beery Heating & Cooling specializes in new installations for Naperville, Aurora, Plainfield Oswego and Lisle, and we're always glad to address the factors that will result in the right unit and cost for you. We can also advise you about any available rebates, tax breaks and warranties for your installation. Just give us a call at (630) 585-6444!
We are available for new central air conditioner installation throughout the area, including Batavia, Yorkville, Plano, North Aurora, Sugar Grove and Montgomery.