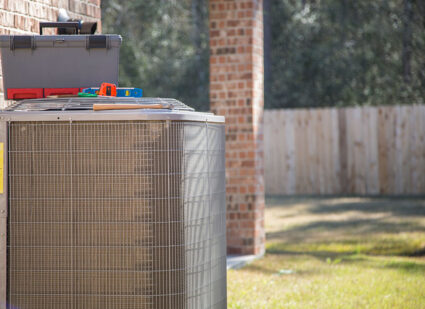 Some people might be fans of cold weather here in Aurora, Oswego, Plainfield, Naperville and Lisle (IL), but we're guessing just as many if not more are always ready for the six-month run from spring to fall. It's a time for opening windows, getting outdoors, wearing lighter outfits and, ideally, welcoming plenty of sunshine.
As you know, as we get closer to the mid-point of that six-month run, the Midwestern heat also moves in with extra helpings of humidity. While we all enjoy open windows and the outdoors, we prefer being comfortable too. Sometimes that means a little more time inside with the air conditioning on.
Your AC is built to work hard and often when you need it to. This call to duty makes it one of your home's busiest appliances, which in turn can make it more susceptible to damage and wear.
You're probably familiar with the term "tune-up." It's not just a catch phrase or a marketing push that you see – it's a vital maintenance step in keeping your cooling system in its best shape for the warm seasons.
What Is an AC Tune-Up?
An AC tune-up is the inspection and maintenance of your cooling system to ensure its greatest efficiency. This includes spotting and diagnosing any possible issues with it before they get bigger.
The following are just a few of the many important steps in a thorough AC tune-up:
ensuring proper function with the thermostat
cleaning the condenser coils
lubricating all moving parts
checking for leaks of gas or carbon monoxide
inspecting and tightening electrical connections
cleaning the drain pan
checking the blower motor and belt
ensuring the correct amount of refrigerant
inspecting ducts for any leaks or blockage
checking the air filter
When Should I Have an AC Tune-Up?
If your air conditioner is relatively new – younger than 10 years old – you should have a tune-up once each year, ideally right before summer, when the unit will be called upon the most. If it is older than 10, you might consider having it checked twice a year to support the best system condition and performance.
If you are not sure of when you had your last AC tune-up, there should be a record posted somewhere near the unit or another related location, such as a furnace or utility room. HVAC professionals will usually place it there so you can monitor your maintenance history. Sometimes it will be a sticker or other type of decal.
In certain cases, your air conditioner may begin to tell you on its own that it needs a tune-up. Some indicators might include:
little to no cooled air or a weak airflow from the vents

leaks or moisture around or from the unit or vents

rising energy bills (the unit may be working harder than usual)

strange smells or noises
Why Should I Get an AC Tune-Up?
By now you probably have a good idea of what makes an AC tune-up so valuable for your home in Aurora, Oswego, Plainfield, Naperville or Lisle. The return on the modest investment you make comes back to you in many ways:
lesser chance of big and costly repairs at inconvenient times (e.g. July or August)

lower electricity costs due to more-efficient functioning

safer system operation (e.g. proper temperatures, no leaks or growing mold)

keeping a warranty active (many manufacturers will void it if the unit isn't maintained)
Potentially longer system life is another advantage of tune-ups. According to the US Department of Energy, today's air conditioners have an average life span of 15 to 20 years. A well-maintained unit can meet or even exceed that range. When you consider the average replacement cost is about $5,000, you might appreciate a few extra years from your existing air conditioner.
Here for Answers and Service
At Beery Heating and Cooling, we enjoy keeping cooling systems in great shape for our customers in Naperville, Aurora, Plainfield, Oswego, and Lisle. We're always glad to hear from you and discuss anything that concerns your AC. We can also precisely tune up your system so it performs like an all-star for you all season long. Just give us a call at (630) 585-6444!
We also provide professional AC tune-ups for nearby communities such as Yorkville, Plano, Batavia, North Aurora, Montgomery and Sugar Grove.